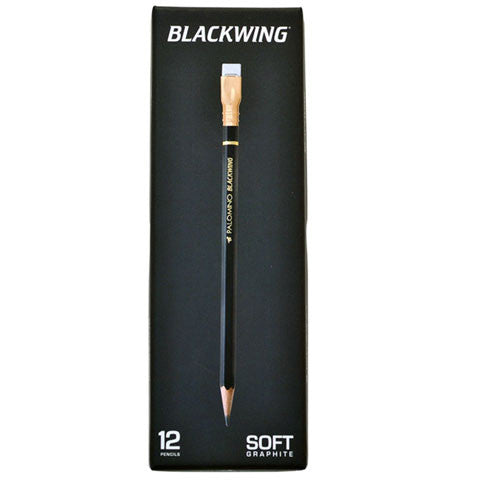 Blackwing Pencils, Soft (Box of 12)
Box of 12 soft graphite Blackwing pencils.
The soft graphite in this product is suited to illustrators, musicians or simply those who prefer a soft, dark line.
The iconic Blackwing pencils were first introduced in the 1930s by Eberhard Faber and were made famous by legendary Grammy, Emmy, Pulitzer and Academy Award winners such as John Steinbeck, Stephen Sondheim, Leonard Bernstein and Chuck Jones, who proudly used Blackwings to create Bugs Bunny and countless other Looney Tunes characters. The brand was discontinued in 1998 but later revived in 2010 by Palomino. 
Palomino Blackwings boast a sophisticated matte black finish with pearl white replaceable erasers which you can customise or "hack" with replacements available in white, black and the traditional pink.
Box size: 22.4 x 7.0 x 1.9 cm.
---
Share this Product
---
More from this collection